Solgaleo



Type

Gender ratio

Genderless

Species

Sunne Pokémon

Ability

Full Metal Body

Weight

507.1 lbs.

Height

11'02"

Egg group

Undiscovered

Catch rate

45

Pokédex color

White
#791
Solgaleo (ソルガレオ Solgaleo) is a dual-type Psychic/Steel Legendary Pokémon introduced in Generation VII. Regarded as an emissary of the Sun, it is the counterpart to Lunala. Solgaleo is the only known Legendary Pokémon with an evolutionary line, evolving from Cosmoem at level 53 in Pokémon Sun, who evolves from Cosmog at level 43. When using its full power, Solgaleo takes on an appearance known as its Radiant Sun phase.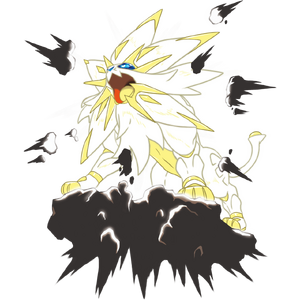 Pokédex entries Edit
Generation VII Edit
Sun: It is said to live in another world. The intense light it radiates from the surface of its body can make the darkest of nights light up like midday.
Moon: This Pokémon is said to be a male evolution of Cosmog. At the activation of its third eye, it departs for another world.
Game locations Edit
Sun: Altar of the Sunne (only one)
Moon: Trade
Base stats Edit
Solgaleo Edit
| | |
| --- | --- |
| HP | |
| Attack | |
| Defense | |
| Sp. Atk | |
| Sp. Def | |
| Speed | |
| Total | 680 |
Generation VII Edit